ONE LIFE band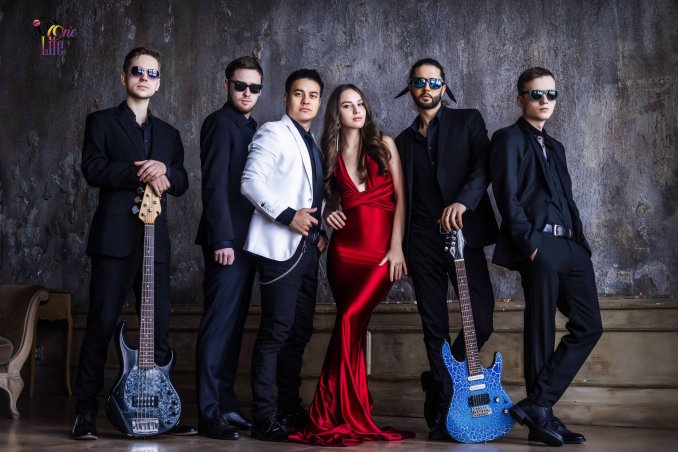 Contacts
Телефон и email
Kvak Ruslan Lavrentevich
To get a discount 10% say promo code
"123"
Cost of services
Average budget:
70.000
Performance of 3 sets of 30 minutes: drummer, bass player, guitarist, keyboard player, male vocals - 70,000 rubles. If you wanna female vocals +15,000 rubles. In the New Year period and departure to another country, city - the cost of the speech may increase ..
* Photos, videos, audio recordings, personal information of the user are his intellectual property.

onelifeband
Vkontakte
Description
The Moscow cover band "One Life" is a unique group including professional musicians: guitarist, drummer, keyboard player, bass player, female and male vocals! The soloist of the group Ruslan Kvak is a graduate of the Moscow State Institute of Culture in the class of pop-jazz singing (Master), a participant in the television project X-factor! The group has extensive experience in performing ...
-Interactive with guests: (direct communication with the public)
-Dances: (soloists of the group Ruslan and Julia professionally engaged in ballroom, Latin American dances)
- Execution in 17 different languages: (Italian, French, German, Greek, Spanish, Romanian, Portuguese, Dutch, Chinese, Korean, Kazakh, Turkish, Uigur, English, Ukrainian, Iranian, and of course Russian)
-Performance in different genres: (Jazz, Rock, Pop, R&B, incendiary Latina, Hits of the 70s, 80s, 90s, folk music, modern music, etc.)
-Live sound: (the group performs completely alive, without any music tracks)
-A completely different format of the event: (the musical team works at a variety of events, whether it's a wedding, anniversary, corporate party, new year, graduation, party, etc.)
---
Program
Repertoire!
Muse – Feeling good (Fm)
Blur – Song 2
Aerosmith - Don't wanna miss a thing (Db)
Bruno Mars - Uptown Funk (Сm)
Bruno Mars – Just the way you are (D)
J.Brown - I feel good
Maroon 5 - This love
Maroon 5 - Sugar
John Newman - Love Me Again (Fm)
Pharrell Williams – Happy (Em)
Pharrell Williams - Get Lucky
Tom Jones - Sex Bomb
Chuck Berry - Johnny be Goode
Bill Haley - Rock around the clock
BON JOVI - It's my life (Bm)
Michel Telo - Nosа
Modern Talking - No face, no name, no number
Enrique Iglesias - Bailamos
Enrique Iglesias - Hero
Enrique Iglesias - Bailando
Ritchie Valens - La Bamba
Luis Fonsi – Despasito (Am)
Ed Sheeran - Shape of you
Michael Jackson - Black or White
Ricchi e Povery – Mama Maria
Imany - Don't be so shy
Besame mucho
Макс Барских – Туманы
Мумий Тролль – Невеста
Руки Вверх - 18 мне уже
Ленинград – WWW
Ленинград – Лабутены
Ю.Антонов – Летящей походкой (Dm)
Браво – Вася
Браво –Оранжевый галстук
Браво – Лучший город земли (С)
Браво – Любите девушки (С) Браво - Я то, что надо
Браво - Московский бит
Кузьмин - Королева красоты
Земляне - Трава у дома
И.Дорн - Ненавижу
Сдобшисдуб – Видели ночь (А)
Леприконсы - Хали-Гали
Машина времени - Мой друг играет блюз
Градусы - Голая
Крид - Самая, Самая
Виктор Цой - Группа крови
Г.Лепс – Рюмка водка на столе Бумбокс - Вахтерам (Gm) Кузьмин - Сказка в моей жизни Eagles - Hotel California (Am) R.Kelly - I believe I can fly (С)
Boyz 2 Men - End of the road (D)
Звери - Все, что тебя касается
Звери - Районы, кварталы
Ф.Киркоров - Цвет настроения синий
Билан - Держи
Queen - We Will rock you
---
Rider
Technical rider of the One Life group
• A set of speakers from well-known companies: JBL, NEXO, EV, Dynacord, Martin Audio, etc. from 2 kW to 10 kW or more (satellites and subwoofer, power depending on the room).
• Digital mixing console from 16 channels, XLR / JACK (Gain / Compressor), at least 4 AUX.
• Monitoring: In-ear kit for 4-6 people (depending on the number of musicians)
DRUMS:
• Drum set top series.
• Barrel size 20 or 22, volumes 10, 12, 16 inches.
• A set of racks: snare drum, hi-hat, one straight stand and two cranes, a chair with screw adjustment.
• A set of microphones for sounding drums.
• Snare drum.
• An iron kit consisting of a 13 or 14 inch hi-hat, a 16 or 17 inch Crash cymbal, an 18 inch Crash cymbal, and a 20 or 22 inch Ride cymbal. Iron should be the top of the series.
• Single pedal for the barrel of the top series.
All equipment must be in good condition.
A snare drum, iron, and barrel pedal are desirable, but not required. If these positions will be absent on the site, you must notify about this in advance.
BAS-GUITAR:
• Stand for bass.
• Bass head Fender, Ampeg, Mesa / Boogie, Markbass, Warwick.
• Bass cabinet Fender, Ampeg, Mesa / Boogie, Markbass, Warwick (Power depends on the size of the room). If the room is large, the power of the cabinet is from 100 watts.
KEYBOARDS:
• 2x DI-box mono
• Serviceable stand (ideally 2X-shaped) for keyboards with a permissible load of 50 kg. For example, K&M, Hercules KS 400B, SoundKing DF047. 2 jack-jack cables.
GUITAR:
• Combi Tube Fender, Orange or the like.
For example, Fender Hot Rod Deluxe, Fender Twin Reverb.
• Carrying with at least 2 220 V sockets for connecting guitar
effects.
• The guitar combo is mounted on a stable stand with a height of at least 1 meter.
The signal from the cabinet is recorded with a SHURE SM57 type microphone.
• Serviceable, reliable guitar stand.
VOCAL:
• 3 radio microphones Shure Beta SM58 or Sennheiser E935 / E945 / E845.
• 3 microphone stands of the crane type.
• Music stand - 3 pcs.
COMMUTATION:
• Be sure to complete the complete set of switching necessary for the specified equipment. At least 3 free network filters on stage.
Please take due care of all the conditions of our group. If you are unable to fulfill any item, then please contact us in advance.
Thank you for understanding. Your cover band "One Life"
---
Like
Share
Link to this page: https://leadbook.ru/en/users/onelife131313
---
Portfolio
Type: свадьба
Кавер-группа ONE LIFE выступала на свадьбе!
Type: новый год
Кавер-группа ONE LIFE выступала на Новогоднем Корпоративе в самом историческом заведении Москвы - ЯРЪ
Type: новый год
Зажигательный концерт группы One Life в MILO Concert Hall...
New Promo One Life band 2020
Bright performance of One Life at the bottom of the city!
More in category musical groups