Cover band " Cappuccino"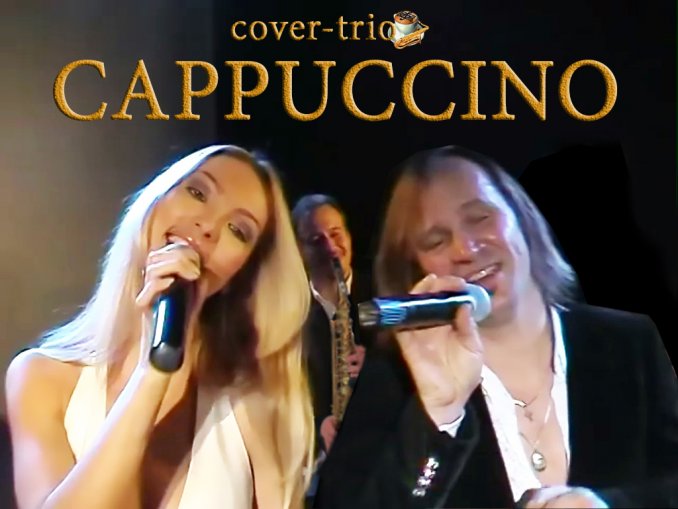 Contacts
Телефон и email
Schastev Anatoliy Alekseevich
To get a discount 10% say promo code
"2019"
Cost of services
Average budget: 30 тыс.
* Photos, videos, audio recordings, personal information of the user are his intellectual property.

cappuccino.su
Vkontakte
Description
The cappuccino cover band is a group of highly professional and dedicated musicians. Each of our performances is a really big and bright show with a lot of original and stylish costumes, an extensive, diverse and individually selected repertoire for each event, a sincere, lively and bright interaction with the audience and, finally, a powerful, perfectly complementary male and female vocals framed by the fascinating sounds of the saxophone.
ANATOLY SCHASTLIV
He is a graduate of the Gnesin Moscow pop and jazz Academy in the class of pop vocals. For a long time he lived and toured in Europe. Winner of the PARADISO SUPERSTAR-95 competition in the Netherlands. The performer of the song for the TV show "my own DIRECTOR" I always take a video camera with me.
NATALIA KUNITSYNA
A graduate of GITIS in the class of pop and jazz vocals, winner of the international competition of young performers "wind rose". Member of the team of the famous singer and composer Valery Syutkin. The owner of an expressive, gentle soprano.
ALEXANDER STARTSEV
He is a graduate of the Moscow Gnesin pop and jazz Academy with a saxophone class, and a graduate of the Tambov musical and pedagogical Institute. Rachmaninoff, soloist and participant of the Voice program with the Phonograph-Symphony-jazz group under the direction of Sergey Zhilin.
Possible composition options:
1. Vocalist + vocalist (duet). 2. Vocalist + vocalist + saxophonist (trio).
3. Vocalist + vocalist + saxophonist + keyboardist + drummer (quintet).
Advantages:
We always strive to satisfy all the customer's needs as much as possible. Therefore, we have a number of advantages that significantly distinguish the team from many other performers.
1. Discount system: Book a New year's corporate party before December 1 and we will give you a 10% discount %
2. Knowledge of the language: if we speak English perfectly, we can sing and interact with foreign guests.
3. Mobility and compactness: our team does not need to rent expensive speakers (the so-called back-line) and other additional equipment, which will significantly save your budget.
4. Professionalism: We can easily perform a repertoire of any complexity and in any style.
---
Program
PLAYLIST.
1. Foreign hits
DISCO
D. I. S. C. O. (Ottawan) Hands Up (Ottawan) Kalimba De Luna (Tony Esposito) Sunshine Reggae (Laid Back) White Horse (Laid Back) Abracadabra Steve Miller Band) How deep is your love (Bee Gees) Vinus (She " s got it) (Shocking blue) Gimme! Gimme! Gimme! (ABBA) Mamma Mia! (ABBA) Money (Abba) Does Your Mother Know (ABBA) Take Chance (ABBA) Rasputin (Boney M) Gotta Go Home (Boney M)
Pop
, Eric Clapton – wonderful tonight, Eric Clapton – before you accuse me
Hafanana (Afric Simone) Bamboleo (Gipsy Kings) Volare (Gipsy Kings) Hotel California (Gipsy Kings) Baila Me (Gipsy Kings) Kolemba de luna (Boney M) Mambo 5 (Lou Bega) I Got a Girl (Lou Bega) La bamba (Los lobos) Smooth (Carlos Santana) Black magic woman (Carlos Santana) Corazon_espinado (Carlos Santana) maria_maria (Carlos Santana) livin La Vida loca (Ricky Martin)
Rock
Eagles - Hotel California Queen - We Will Rock You, Another one bites the dust, crazy little Thing called love Pink Floyd - Shine on you Crazy Diamand, time, wish you were here, breath Scorpions - wind of change Whitesnake - is this love, deeper The love Gary Moore - Walking by myself, still got the Blues Jimi Hendrix - Hey Joe, Manic Depression Lenny Kravitz – I Belong To You, Always On The Run, Fly Away Led Zeppelin – Stairway To Heaven, Rock"n"Roll, Going To California Deep Purple - Soldier of Fortune, Smoke On The Water, Sail Away, Hush Faith No More – Easy Metallica - Nothing Else Matter Dio - Rainbow Eyes
JAZZ
Cry me a river (Natalie Cole) Ipanema (Sinatra) Just the to of us All of me Dream a little dream of me The shadow of your smile Fly me to the moon (Sinatra) don't know why (Norah Jones) Nothing can come (Sade) Paradise (Sade) At last (Jaimee Paul) Crazy (Jaimee Paul) Besame Mucho (Andrea Bocelli) Route 66 (Natalie Cole) love (Natalie Cole) Georgia just the way you are quando quando (Michael buble,Nelly Furtado) what a wonderful world ( Michael buble) talulah ( Jaimiroqui) fever Sunny hit the road Jack (ray Charles) look of love (Diana Krall)
Didn't find the song you want to hear? Call and order right now and tomorrow it will be in our repertoire!
---
Rider
Technical rider for the trio's performance:
1. Voice system (portals) of the required capacity.
2. Three microphone stands
3. Mixing console for 4 inputs on stage.
4. Sound processing processor reverb\hall.
5. Monitor-podzvuchka - 1 / 2 PCs.
Payment procedure: 50% of the fee – at the time of signing the rider; the remaining part of the fee (50%) at the venue before the start of the concert.
---
Like
Share
Link to this page: https://leadbook.ru/en/users/cappuccino
---
Portfolio
Type: торжественное мероприятие
Веселились и зажигали на юбилее хорошего человека в красивом и живописном месте ресторанно-гостинничного комплекса «Лесная сказка» в Переславле-Залесс...
Bee Gees - How Deep Is Your Love
Кавер-трио "Капучино" - Попури
More in category musical groups