Дуэт арфисток Шарм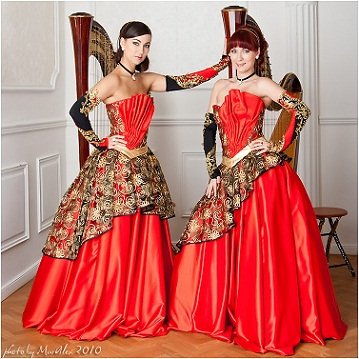 Contacts
Телефон и email
Kareva Yuliya Viktorovna
Cost of services
Average budget:
12.000р
Соло арфы 12.000р. за час игры по Москве. Дуэт 25.000р. + др. инструмент ( скрипка, флейта,саксофон,труба,ударные,виолончель,рояль и т.д.) 5-15.000р.
* Photos, videos, audio recordings, personal information of the user are his intellectual property.
Vkontakte
Description
Екатерина и Юлия Каревы - семейный арфовый дуэт. Являются лауреатами многих конкурсов как солистки так и в дуэте. На данный момент работают в двух жанрах : классический и шоу. Играют не только на любых коммерческих мероприятиях , но и делают собственные классические и шоу концерты, в которых сочетают инструментальную музыку,танцы и свой вокал. Огромный опыт работы, широкий выбор классических платьев и дизайнерских костюмов.
---
Program
Классическая и популярная музыка разных стран.
Фоновая музыка под минус.
Романсы под арфы.
Соло, дуэты, ансамбли с любым инструментом.
---
Like
Share
Link to this page: https://leadbook.ru/en/users/arfa0
---
More in category musicians