APOLLO DEEJAY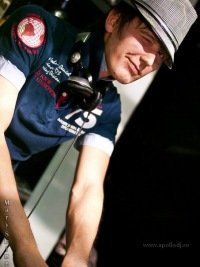 Contacts
Телефон и email
Mayorov Konstantin
Cost of services
Average budget: договорная
* Photos, videos, audio recordings, personal information of the user are his intellectual property.
Vkontakte
Description
Apollo DeeJay, настоящее имя Константин, музыкант и диджей из города Санкт-Петербург. За вертушками с 2007 года. Предпочтение отдаёт Disco / Club / Vocal House, а так же стилю Dance / Hands Up!, но не ограничивается лишь этим, позволяя иногда экспериментировать в стилях Trance и Chillout.
Ведущий радиошоу Disco Lovers на радио Alice Boogie и радиошоу Dance Around The World на Clubberry FM. В настоящее время резидент радиостанции Рекорд канал Dancecore. По версии радио Петербург, вошёл в тройку лучших молодых диджеев в 2008 году. Выпускает свои собственные композиции под лейблом MegaRecordings и Muz Flame.
Гость многих клубов, как в Санкт-Петербурге, так и за его пределами. Кроме этого организовывает собственные вечеринки в качестве промоутера.
---
Like
Share
Link to this page: https://leadbook.ru/en/users/apollodj
---
More in category dj