SILVESTRIS strings show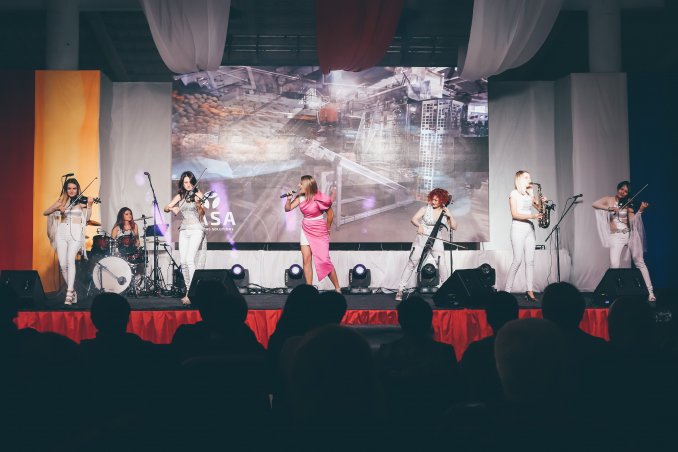 Contacts
Телефон и email
Shemyakova Irina Valerievna
Cost of services
Average budget: 45.000
* Photos, videos, audio recordings, personal information of the user are his intellectual property.

silvestris_band
Vkontakte
Description
We present to your attention bright string show with amazing energy – Silvestris. Unforgettable artistic impression and masterful playing musical instruments is what makes Silvestris unique.
Musicians perform in different styles, they have bright instrumental program and they can also perform as a cover band with a vocalist, string instruments and drums. That always makes their performance unforgettable for the audience!
Their subtlety and charm coupled with exquisite and refined music win new audience hearts at lightning speed.
All the musicians have significant experience of concerts and recording both in Russia and abroad (Austria, Germany, Singapore, Macao, United Arab Emirates, Thailand, India, Nepal, Uganda, Taiwan).
Silvestris lit corporate parties for BMW, KIA MOTORS, HONDA, OPPO (all over India), GAZPROM, SIBUR (Russia), Grimme (Germany). They performed as a warm-up for BRUNO MARS in the imperial palace in Vienna. This is a great option for corporate parties - Silver Strings performed for JW Marriott, CRMNEXT, CB&I, Tynor, Prateek Group. Opened fashion show LAKME FASHION WEEK.
What we offer:
We provide a complete program - instrumental and cover band, which will help you plan all the options on your event
* a complete musical performance that contains a desired number of sets depending on the program and your celebration scenario;
* vivid stage images for each set;
* lounge program for meeting guests or if your event is calm and romantic;
* solo saxophonist performance before the start of the main celebration, as well as performing together with the whole band
* sound accompaniment for the welcome zone at exhibitions, presentations and corporate parties;
Each team member is a professional musician with vast experience of performing at various events and venues.
We will offer you several music program options for your event to choose from.
We will be able to offer you a music band for the event of any scale. Between a string duet to a great show supplemented by a saxophone and drum show, up to 12 people on the stage.
---
Program
1. Rock around the clock (rock and roll)
2. Shocking blue Venus
3. Mission Impossible
4. Abba Money money money
5. Abba Dancing Queen
6. Boogie Wonderland Earth, Wind & Fire
7. Abba Gimme Gimme
8. Ed Sheeran Shape of you
9. Michael Jackson Black or White
10. Chainsmokers Closer
11. Pharrell Williams - Get Lucky (duft Punk)
12. Abba head over Heels
13. Maroon 5 - Moves Like Jagger
14. Alan Walker – Faded
15. Maroon 5 Sugar
16. Rihanna This is what you came for
17. Major Lazer & DJ Snake
18. Rihanna Diamonds
19. Alvaro Soler - La Cintura
20. Umbrella (rock and roll)
21. Cant buy me love Beatles (rock and roll)
22. Michael Jackson Smooth criminal
23. Celine Dion My heart will go on (Titanic)
24. Ray Charles Hit the road Jack
25. Abba Mama Mia
26. hallelujah (Leonard Cohen)
27. Asturias Isaac Albeniz (our arrangement)
28. Autumn Leaves (jazz standard)
29. Palladio Escala
30. Sherlock holmes
31. quatro (beautiful violin melody)
32. Destiny Vanessa May
33. Miracle- Silver Strings
34. Vanessa May Storm
35. tango Por una Cabeza (Scent of a woman)
36. Bond Fuego
37. Bond Wintersun
38. libertango - Astor Piazzolla
39. Korobuska – Russian song in Silver Strings arrangement
40. Bach – scherzo
41. Eros Ramazzotti Cher - Piu che puoi
42. Matia Bazar- Vacanze romane
43. All the right moves - One republic
44. Frank Sinatra – Strangers in the night
45. А- студио – Мама папа
46. Звери – Южная ночь
47. Zdob Si Zdub - Видели ночь
48. 2 Маши – Босая
49. Vivaldi – Winter
50. Песенка о медведях
51. Январская вьюга
---
Rider
3 floor monitors
4 inputs XLR remote
stereo pair input on the remote (jack \ jack) for connecting a laptop
2 AUX on the remote
sounded drum kit
---
Like
Share
Link to this page: https://leadbook.ru/en/users/SILVESTRIS-strunnoe-shou
---
2 violin, cello, drum set
The unique composition of the cover group - 2 violins, cello, drum set, vocals
More in category musical groups