Music&Dance show Duetto Amore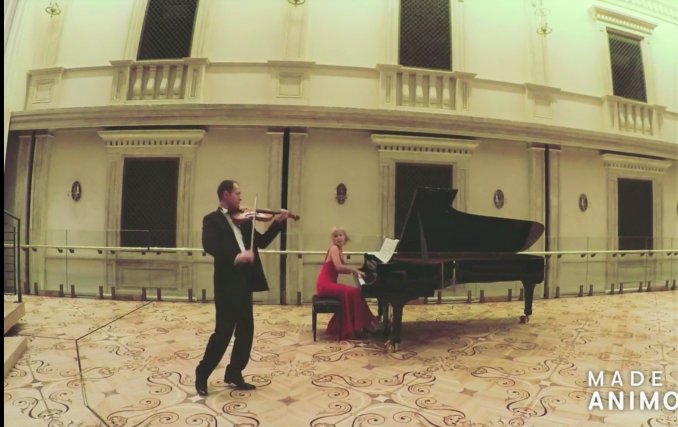 Contacts
Телефон и email
Rudenko Svetlana
Cost of services
Average budget:
50000
music and dance program 30 minutes , from 50 thousand rubles full program (50 minutes + interactive) 100 thousand rubles Performance without dancers ( concert format) from 20 thousand rubles
* Photos, videos, audio recordings, personal information of the user are his intellectual property.

duetto_amore
Description
Duetto Amore is an instrumental ensemble, a Duo of violin and piano. We perform by ourselves, as well as in tandem with a dance pair of sports and ballroom dances.
Live performance of popular instrumental music and dance in real time is a fascinating performance!
Professional musicians and dancers will perform at a holiday, wedding, corporate event. It is possible to order individual numbers with a dance or a whole dance show. Interactive with the guests!
A great experience of concert activities, the orchestra of the Bolshoi theatre of Russia, graduates of the Moscow Conservatoire. P. I. Tchaikovsky, winners of international competitions. Current dancers of B and A class, finalists of many tournaments in Moscow, winners of various competitions.
Amore Duetto, the skill, the virtuosity and nobility in a live performance!
---
Program
Music and dance show "Duetto Amore". Violin, piano and dance. A love story told by dance and music. A series of contrasting dance and instrumental numbers linked in a single storyline. The musical part includes well-known popular music of various styles and several eras, ranging from Antonio Vivaldi and Niccolo Paganini, and ending with Elvis Presley. The duration of the presentation is 50 minutes. At the end, you can interact with the audience: "happy end" we all dance together.
A concert of instrumental music lasting half an hour, 1 hour or more - the program and time of performance are discussed with the customer. We will select a program specifically for you! Live sound of the violin at a holiday or event will be an exquisite gift for guests! We are professional classical musicians for a holiday, event, corporate party or just an evening with friends and art lovers. Dance numbers on request.
Wedding. A violin at a wedding is always exciting! Our violin and piano duet at the wedding will not leave anyone indifferent. For wedding celebrations, we have a special music program that will create a romantic mood and emphasize the most important moments of your event - meeting guests, taking out cake, toasts from parents, etc. If there is no instrument on the site (Grand piano), we will bring our own! Dance numbers on request.
The program of the performance depends on the concept of the event and the customer's wishes. Live performance of classical, as well as popular instrumental and vocal music, combined with dance, will bring joy and pleasure to even the most sophisticated audience! The show must meet the conditions specified in the rider.
Our repertoire includes music from different eras and styles, ranging from Baroque and classical music to tango and modern music from movies.
Duetto Amore-violin and piano Duo for an event, wedding, corporate party!
---
Rider
https://duettoamore.ru/duetto_amore_raider_shou_2020.03pdf.pdf
---
Like
Share
Link to this page: https://leadbook.ru/en/users/Music-Dance-show-Duetto-Amore
---
Duetto Amore - это инструментальный ансамбль, дуэт скрипки и фортепиано. Мы выступаем сами, а также в тандеме с танцевальной парой спортивно-бальных танцев. Живое исполнение популярной инструментальной музыки и танца в реальном времени - это увлекательное представление! Музыкально-танцевальное ШОУ на любые мероприятия. Танцоры на мероприятие, свадьбу или корпоративный праздник в сопровожден...
Музыкально-танцевальное ШОУ на любые мероприятия. Танцоры на мероприятие, свадьбу или корпоративный праздник в сопровождении живой инструментальной музыки.
Duetto AMORE - Петр Чайковский - Мелодия для скрипки и фортепиано
Duetto AMORE - Astor Piazzolla
More in category dance shows